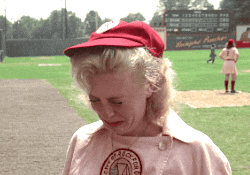 Does volunteer management ever make you cry? It does, doesn't it? I mean, when you are sitting there and a volunteer recounts their struggle with being bullied as a child or they tell you about their journey through rehab or their fight to beat cancer, you just break down and cry because you care and feel their pain.
And then there's the pride cry when we witness volunteers wrapping a child in their arms or brushing the tear off the cheek of a grieving spouse. We well up when volunteers win an award because we witnessed their profound effect on those we serve. We weep when volunteers suffer a loss or when we see one of them grow fragile. We cry openly when they leave because they mean more to us than the hours they've spent.
But do you ever cry out of frustration? When it's all your body can do? I remember crying like that once. I was managing a resale shop with little to no resources except the great volunteers. I would borrow a hospital laundry truck to pick up donated furniture and ask an able-bodied volunteer to go along with me on the route that I had meticulously mapped out. Depending upon where the pickups were located and how much the donor had planned to donate, the route made maximum use of the truck.
It happened during the last stop one day. It was 5:00 pm and I had to unload the truck at the shop and get it back by the hospital's evening laundry run at 6:00 pm. The hospital had already sternly warned me that if I didn't return it by 6, (I'd been late returning it several times already) they would not lend it out anymore, so I needed to hurry.
My volunteer, Peter and I parked in front of the last house and got out. The donor was waiting to meet us. "I know I said I had two pieces of furniture, but we're moving and I want you to take all of it."
Peter and I looked at each other. He and his wife had dinner plans with relatives who were visiting from out-of-town. "We won't be able," I began to say, but the donor cut in. "It has to be gone tonight. I thought we could get it into storage but we can't. Our son was in an accident and he's taken a turn for the worse." His voice trembled. "We need to get to him."
Peter and I started to gather the furniture and haul it into the truck. The cargo space was nearly full and we had to jam the furniture in any way we could. I looked at my watch and realized that there was no way I could get the truck back in time. That meant the hospital would stop loaning it to me and the arduous task of having to find another vehicle all over again loomed.
I knew that Peter would miss his milestone birthday dinner with his family. He didn't say it, but I knew how important this was to him. My body was tired, my mind exhausted and thoughts of "what am I doing all this for anyway, I can't get ahead," began to swirl. My careful planning meant nothing now. Standing there in the back of the truck amidst all the tangled lamps and chairs, I broke down. It was so defeating.
Peter stopped and gave me a minute and then he said, "Look, it's ok. We're going to do this. I can join my family when I get home, it'll be fine."
"But it's your birthday. Some birthday. I made you miss it. And they will take the truck away," I said through tears.
Peter nodded and said, "Yes, they probably will. But look, you've got us. All of us volunteers and we will figure this out. We've done it before and we will do it again."
We finished that night almost three hours late. I thanked Peter and drove the truck back to the hospital where my car was parked. After I gave the keys to an angry attendant, I got in my car and headed home. As I drove, I broke down and cried again.
This time though, I wept because I was surrounded by volunteers like Peter.
-Meridian
.